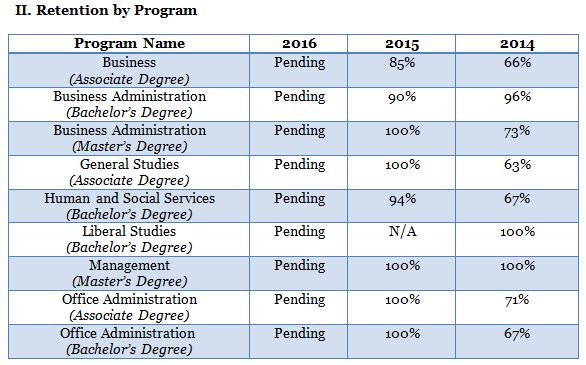 Across all programs, the College's retention goal is 85 percent. 
III. Improving Retention
To improve and maintain retention rates, the College:
• Takes attendance nightly and calls/emails all students who have missed classes.
• Conducts Student Support Office visits with students who have excessive absences
• Addresses all student complaints in writing immediately and seeks to resolve all complaints in two business dates.
• Trains faculty on best practices techniques in classroom management and conducting engaging learning activities in classrooms
• Conducts quarterly student evaluation of classes and engages in corrective action each quarter
• Supports the Student Council as a form of student feedback and meets frequently Student Council Representatives.
Retention and Placement
(from the ACICS website)
ACICS will determine average retention and placement rates annually for campuses based on information collected in the annual Campus Accountability Report (CAR) and will provide these data to all accredited campuses. A campus with retention or placement rates that are not in keeping with the expectations of ACICS will be subject to additional reporting and required to submit a corrective action plan. In addition the campus may be required to attend a workshop, to participate in a consultation with ACICS, to undergo an on-site evaluation; or may be issued a show-cause directive, a deferral or denial action related to the campus's application for a new or initial grant of accreditation; or may be subject to another appropriate action.
Each campus shall publish annual placement and retention goals. In formulating these goals, each campus shall take into account the retention and placement rates from the previous three annual Campus Accountability Reports and the specific activities that will be undertaken to meet those goals. Through these activities, the campus must demonstrate its ability to maintain or improve retention and placement outcomes each year.
The Council's benchmark and compliance standards for retention and placement at the campus and program level are 70% and 60%, respectively, except for programs longer than 1 year for which the benchmark standard for retention is 65%. Campuses that fall below the Council's standards may submit, data or a narrative explanation detailing any mitigating circumstances that contributed to the campus's low retention and/or placement rates. All materials must be submitted as part of the CAR, along with documentation and a campus or program improvement plan by November 1st each year.