[vc_row][vc_column][vc_column_text]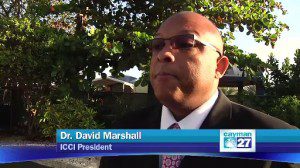 Click here to watch the video clip
The new president of the International College of the Cayman Islands (ICCI) says he wants to work with potential employers, to help build their curriculum.
Doctor David Marshall took the reigns at ICCI and he says he plans to tailor the needs of students by finding out exactly what future employers want.
"If you believe the government statistics, they are telling us that one out of every 10 Caymanians is out of work," said Dr. Marshall.
"There is no solution to that other than education. Education and training. It's not because of a lack of talent or lack of interlect of the Caymanian people, or a lack of anything.
"There are a lot of pluses with people on the Island, with children, with young citizens here, but they need the skills, they need the training to take their rightful places and that cannot be done, will not be done and wont be done without the power of education."
Dr. Marshall has more than 12 years experience in higher education and comes to Cayman having previously worked in Chicago.
[Source: Cayman 27, 7 March 2014][/vc_column_text][/vc_column][/vc_row]