[vc_row][vc_column][vc_column_text]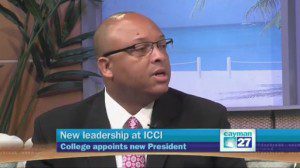 Click here to watch the video
A new man takes the helm at the International College of the Cayman Islands (ICCI).
Dr. David Marshall takes up the position after a unanimous board decision. Coming from Chicago, Dr. Marshall has more than 12 years experience in higher education.
Dr. Marshall joins the Daybreak team to discuss what direction he plans to lead the college in.
[Source: Cayman 27, 7 March 2014][/vc_column_text][/vc_column][/vc_row]